Would you like more Google traffic? First, to comprehend what individuals are truly looking for, you need to do keyword research. In this article, I'm going to teach you how to use the Google keyword planner tool.
If you write articles and don't rank on the search engine's first page, that means you're doing something wrong.
Let's begin with the basics.
keywords:
This article will explain the keywords ' importance, why you should have keywords, and what the right keywords are.
So the very first thing we'll do here is to comprehend the keyword's significance. What precisely is the keyword? And how do you select your blog post's keywords right now?
So we're starting here,
So, "It's right when you're searching for something in Google, it's called the keyword."
Or if you're looking for "best computer," it's a keyword.
google keyword planner tool:
The keyword planner is an official Google product that offers us an estimate of the traffic of our target keywords as well as helping us discover keywords for your niche.
Google's keyword planner tool is 100% free to use, and you don't need to spend any money to use this tool.
So I will clarify "how to use this tool and how to get thoughts to select the correct keywords":
Step 1: First of all, to use the Google keyword planner tool, you'll need a Google Adwords account.
click on
Google Keyword Planner Tool free
Just use your Gmail account to sign in and you'll be inside the google keyword planner.
[Just follow the prompts, enter some information about you and your business, and you're in there.]
Step 2: Click on the wrench icon at the top of the page in the toolbar next login to your Google Adwords account.
Then click on planning>>keyword planner.
Step 3: Now you are going to get the following screen when you click on the keyword planner:
Within the google keyword planner, you will be presented with two different tools: "Find new keywords" and "Get search volume and forecasts."
Step 4: As you can see, this tool's field tells: ' Enter words, phrases, or a business-related URL. '
After entering your information in one or all three of the options, click "Get Started".
Step 5: When you click Get started, the following screen will be displayed:
This is what the keyword planner tool's homepage looks like.
You'll notice targeting options at the top of the page:
Locations: It's the country you're marketing to.
Language: This is the keyword language on which you would like to advertise.
Search Networks: That's if you just want to advertise on Google or not … Or Google and its ' search partners. '
add filter:
As you can see, a decent number of filtering options are available. So let me unravel a few of the options for you quickly.
Now you are going to get the following screen when you click on add filter:
keyword text:
Here's where you can only have the tool showing you keywords containing a specific word or sentence.
competition
You can only display keywords with "Low," "Medium" or "High" competition on the google keyword tool.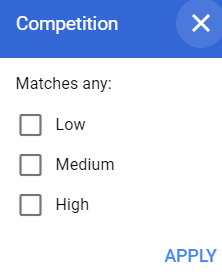 This only applies to Adwords competition (not how competitive the keyword is to rank for. )
exclude keywords in my account
This excludes keywords that you're already bidding on in Adwords.
understand keyword tool column:
Now understand every column's meaning.
keyword(By relevance):
This is the list of keywords deemed most relevant to your keyword or URL by Google.
average monthly searches:
It indicates the past 12 months ' average search occurred.
competition:
It shows the competition among advertisers bidding on that keyword.
top of page bid:
Now you are going to see two categories of "Top of page bid(low)" and "Top of page bid(high)".
These provide you with a clear image of what you need to pay to rank on the first page vs. the bottom of the first page within the top outcomes.
Would you like to rank as # 1 for "coffee store?" Offer over $2.00. Would you like to rank at the bottom of the page? Offer over $1.02.
Also Read:
How To Write SEO-Optimized Article
I hope this Google Keyword Planner tool guide will help you to find the best keyword.
Don't forget to share this article.