Are you trying to write a blog post in WordPress?
How To Write A Blog Post? You're here with all these tales about how others make cash from blogging, and you'd love to do that too, but how?
Now that all of your WordPress blogs have been set up, it's time to start writing!
While I can't necessarily tell you what to write about in your blog, I can tell you how to write a WordPress blog post!
OK, let's just start …
how to write a blog post in WordPress
STEP 1: Log in to your WordPress account to begin writing your post.
STEP 2:
Once you've logged in, you'll want to click on the "posts" on your blogging dashboard's top left side.
STEP 3: Click the "Add New" button.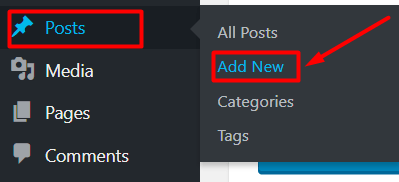 STEP 4: Adding Title & Content blocks.
In December 2018, WordPress launched a fresh contemporary block-based editor, also known as Gutenberg.
The block editor for WordPress comes with a smooth writing interface.
To add content, you must add a block.
On the screen, you can press multiple add block buttons to pick and add a block.
For all common content items including pictures, gallery, widget, paragraph, column, shortcodes, and more, WordPress comes with blocks.
STEP 5: Once you are done writing the blog post, all you have to do is click on publish on the right side and your blog post will be live on your blog!
Take a look at the option to publish in the right column.
Also Read:
How To Start A Blog And Make Money From It
You should be aware of some additional option to include:
add categories & tags
Categories are very useful in organizing your reader content.
You can sort your post with WordPress into categories and tags.
The category and tag meta boxes are situated under the Document setting in the correct column.
add featured image

The featured images are images representing a single type of post, page, or custom post.
Almost every WordPress theme supports the featured image functionality.
You'll find the option to add a featured image to your post in the right column under Document Settings.
turn comments on/off
WordPress comes with an embedded scheme of comments that enables users to leave remarks on your post.
You can switch off comments from the Discussion tab under the Document tab for individual messages.
We hope this article helped you learn how to write and publish your first blog post.