Numerous online rumors and hoaxes arose as a result of the worldwide outbreak of the novel coronavirus.
Just like this message, it is mainly forwarded on WhatsApp, which claims that one can prevent coronavirus infection by drinking water every 15 minutes.
Drinking-Water Every 15 Minutes Won't Prevent Coronavirus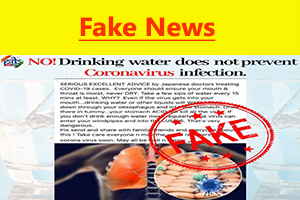 The Press Information Bureau (PIB) of the Government flagged the viral message as fake. "No! No! Drinking water CANNOT prevent contamination with #Coronavirus, "they tweeted.
Unfortunately, this isn't the only viral disinformation about the pandemic. It is often advisable to accept such statements made by responsible authorities such as officials from the government or the World Health Organization (WHO).
Read More Here: Hindustan times News
Also Read: